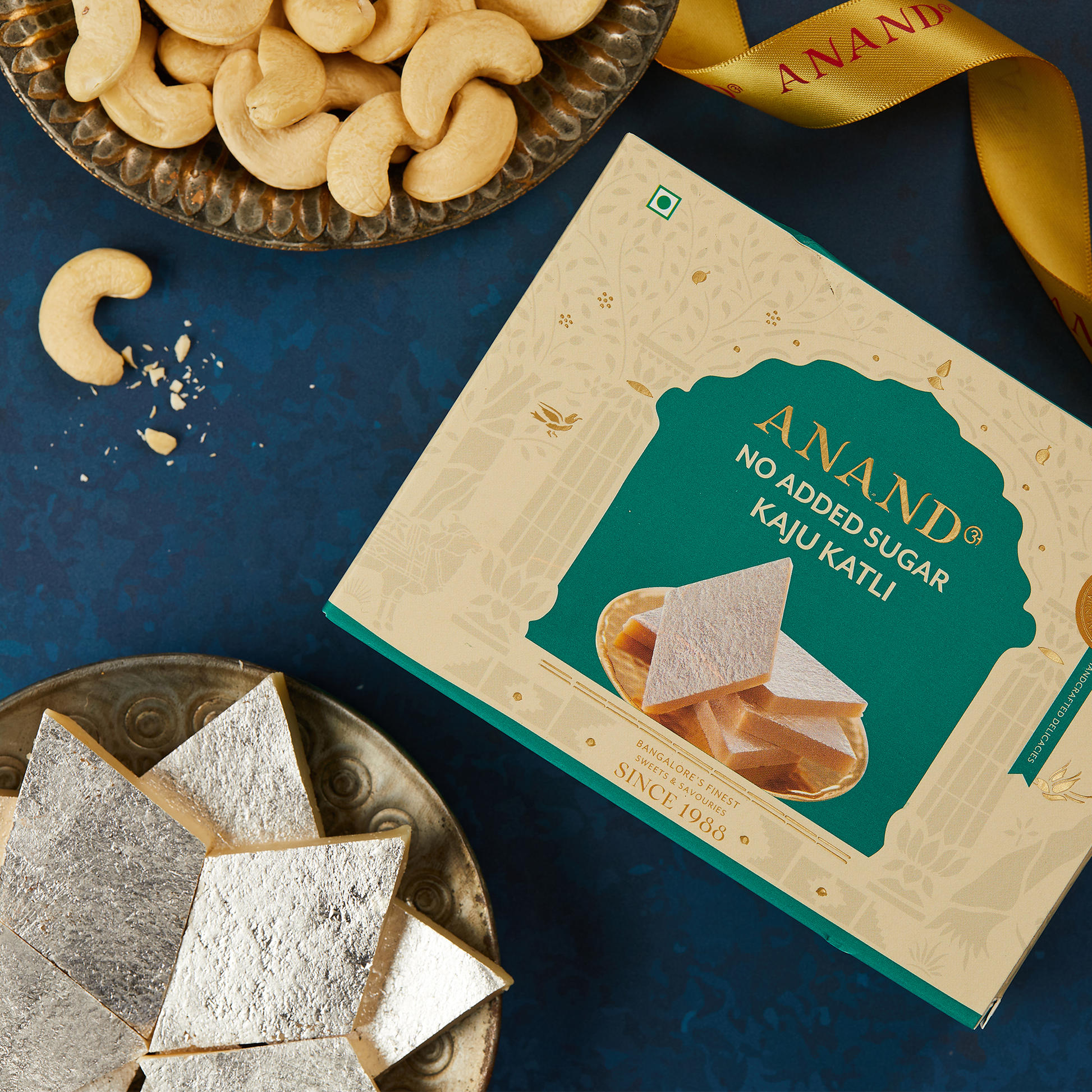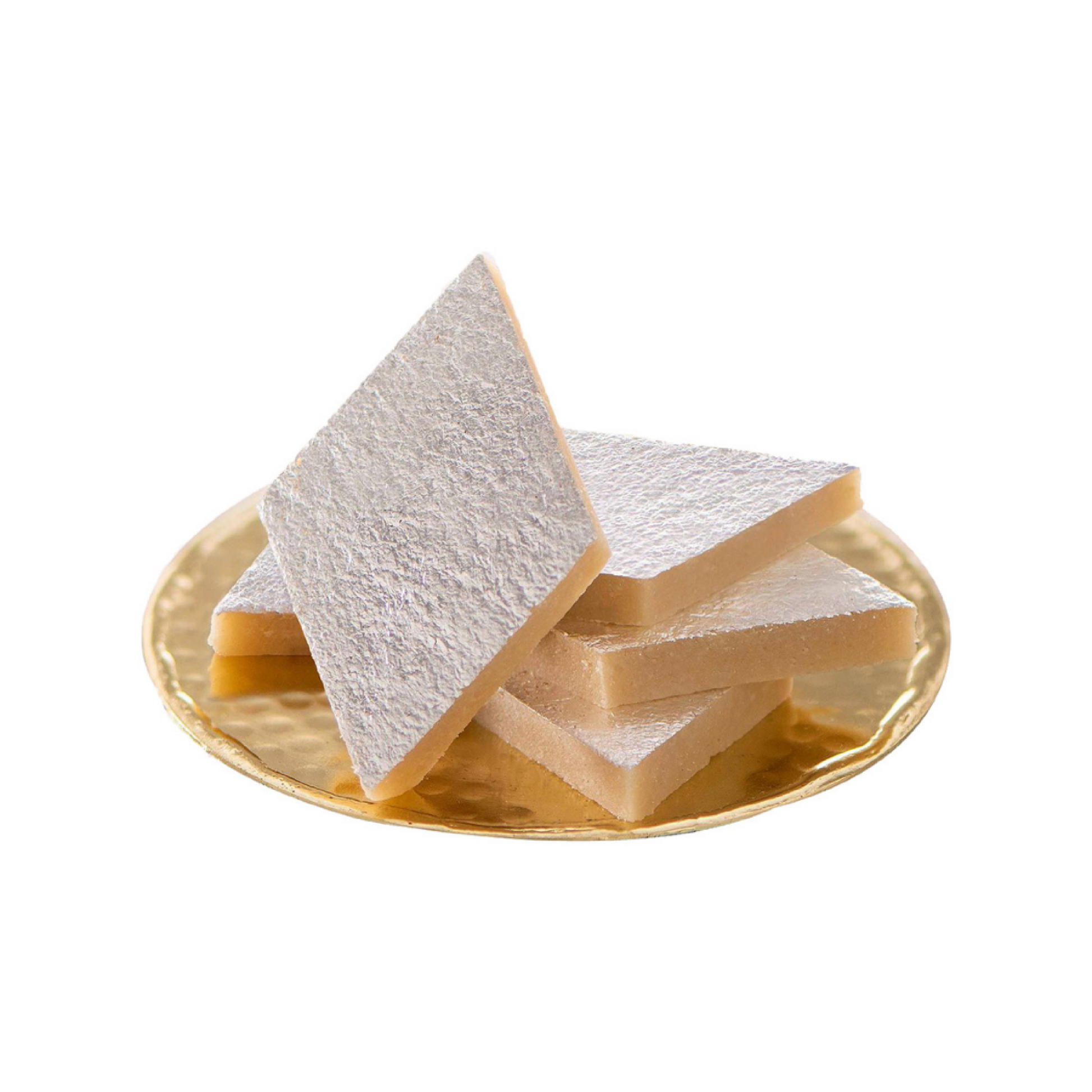 Sugar Free Kaju Katli (200 gms)
Sale price
₹ 425.00
Regular price
₹ 599.00
(MRP Inclusive Of All Taxes)
BEST BEFORE - 20 days AFTER PACKING
Origin
Said to have been created in the 17th century to celebrate the release of Sikh Guru Hargovind Singh from Mughal captivity, the classic sweet retains its popularity till date. The no-added-sugar version is much sought-after by those who love the rich milky taste of cashew, but must watch their sugar.
Taste & Occasion
The Anand Sweets Sugar Free Kaju Katli is made from the best quality cashew procured from Karnataka, the largest producer of the nut in the country. The nuts are therefore literally farm-to-factory, and super fresh. Good for the heart, cashews are rich in protein and give an energy boost. Traditionally, an integral aspect of Diwali, the silver vark-layered sweet is today part of all happy occasions. Tuck in to this melt-in-mouth, guilt-free version without worries of added sugar.
Shelf-life & Storage
The Anand Sweets Sugar Free Kaju Katli comes packed in a dainty cardboard box with delightful motifs evoking the grandeur of royal India. The cashew fudge is best eaten within 20 days of opening the box. Store the box in a cool, dry place and away from direct sunlight.
Ingredients
Cashew nuts, Isomalt, Ghee, Stevia and Silverleaf.
Elevating the Culinary Experience
By Exquisite
Sourcing, Impeccable
Craftsmanship
We are obssessed with quality and thus, top quality certified ingredients are all sourced from places of origin to ensure the best, most authentic produce.
We are particular about the products. Thus, to ensure authenticity of taste and methods, all our karigars too are meticulously screened and hired.
We follow global standards of freshness, hygiene, health protocols and storage, are maintained at all times.
At Anand we believe in clean food for all. All our products are free of artificial flavours or added preservatives.
Customer Reviews
Sugar Free Kaju Katli (200 gms)
Sugar Free Kaju Katli (200 gms)
Delicious
For guilt free treats, I trust Anands quality sugarfree sweets
Sugarfree Kaju katli
Unbelievable, tasted very good,
Sugar Free Kaju Katli is very sweet for my taste and artifical sweetners are being used
I bought 2 packets thinking a anand sweets would use natural sweetners but it turns out artificial sweetners like isomalt sucralose is used....which is way worse than sugar.
no point in buying sugar free sweets.
Plus the product is way too sweet to consume, I would not recommend this product if you are health conscious or have insulin resistance
Product and Manufacturing Information
Shelf Life
20 days (from the date of Mfg.)
Dimension (Length × Width × Height)
20.50 cm × 15.50 cm × 11.00 cm
Manufacturing Information
Anand Sweets & Savouries LLP
31 A, Road No. 2, Jigani Industrial Area Phase 1,
Jigani Anekal Taluk, Bengaluru, Karnataka, India. 562106.